Click image for source
Guess what?? Its almost February! Can you even believe it? It feels like it was just Christmas a few days ago!
The weather has been rather icky. Rain/Snow mixture and for the past couple of days and now today it has been snowing non stop! I must say, I can not wait for Summer time!
We all now that when February comes, Valentines day also comes rolling into our minds (and my birthday on the 17th ..wink wink).
What do you think of when you here Valentines Day?
Love is a common one for sure.
Chocolates (perfect Valentines day gift!)
Candy
Lots of
Pink
and
Red
And how about Coziness?
A perfect Valentines Day gift would be "The Cozy." I won two cozies in a contest, one to keep and one to giveaway!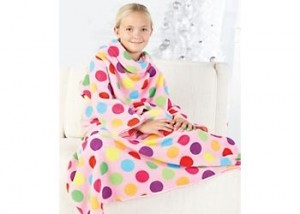 St. Eve makes the softest cozies that I have ever seen so far! The thing that is so great about them is that they slip over in the front and leave your back open! They have sleeves so that you can type, read, or anything else, while staying nice and toasty! I have really enjoyed using this!
This can be used for kids,teens, or adults I have found! The sleeves are a tad bit short on teens and adults, but it still works great!
So..now onto the giveaway!
You can win 1 hot pink St. Eve Cozy!
Mandatory: Tell me what word comes to mind when you think of Valentines day!
+2: Sign up for
Mylikes
and link your Twitter account up to it!
+2: Follow
+2: Blog about this contest
+1: Follow me on Twitter @polopony95
+3: Enter the
Aqua Safe Straw giveaway
+3: Enter the
50 follower giveaway on my Moms blog!
Good luck!
Hmmm, how about we end the contest on Valentines day!